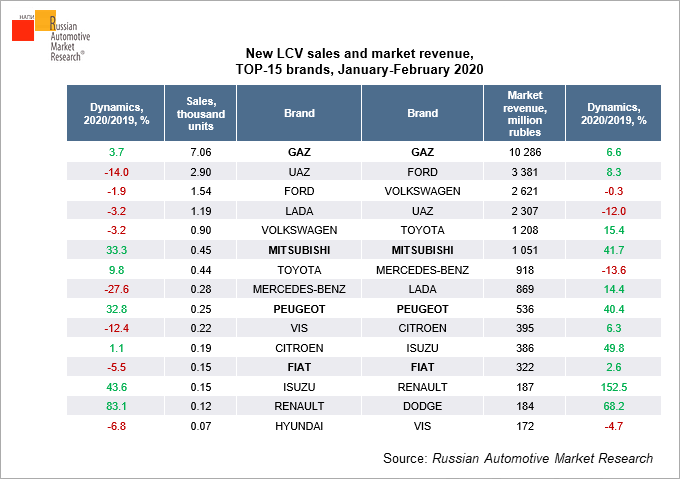 In January-February 2020 sales of new LCV[1] in money terms amounted to 25.3 billion rubles, which was a 6.4% rise on the same period of 2019. The weighted average price for new light commercial vehicles for this period increased by 7.3% and amounted to 575 1 034 rubles.
Following results of the first two months of 2020, the best financial result belonged to KIA. Russians spent 39.5 billion rubles on the purchase of cars of this brand. The second place by the financial result was occupied by TOYOTA, dealers of which sold new cars on 36.4 billion rubles. The premium MERCEDES-BENZ also entered the top three with a result of 32.4 billion rubles.
In January-February 2020 the Japanese MITSUBISHI showed negative market revenue dynamics caused by the decrease in brand sales by 6.6%.
___________-
[1] LCV with GVW of up to 6 t, including pickups
Source: «LCV on 65 billion rubles were sold in Russia» press-pelease by RAMR