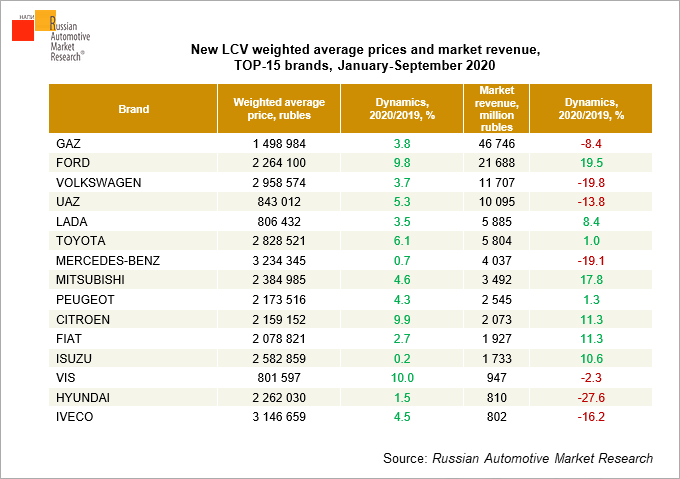 Over the first nine months of 2020, the market revenue of new LCV[1] amounted to 123 billion rubles, which was a 3.9% decline on the same period of 2019. Negative dynamics of the market revenue was caused by a 9% drop in new LCV sales.
GAZ traditionally became the leader by financial results. In January-September 2020, this brand sold new LCV on 46.7 billion rubles. It was followed by FORD, vehicle sales of which in money terms amounted to 21.7 billion rubles. VOLKSWAGEN also entered the top three with a financial result of 11.7 billion rubles.
Several TOP-15 brands showed the growth of the market revenue. This dynamics of FORD, LADA, MITSUBISHI, CITROEN, FIAT and ISUZU brands was caused not only by price growth, but also by increase in demand for these vehicles for the reporting period. TOYOTA and PEUGEOT increased their financial results due to rising prices.
__________________
[1] LCV with GVW of up to 6 tons, including pickups
Source: «LCV on 300 billion rubles were sold in Russia» press-pelease by RAMR