Stock Keeping Units search of spare parts, oils and technical liquids
LATEST UPDATE:
2023, monthly
Archive data:
2022, 2021
---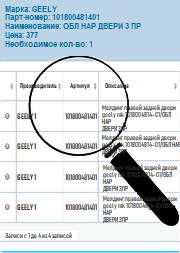 The marketing agency NAPI (National Industrial Information Agency) is regularly organizing the Stock Keeping Units search of spare parts, oils and technical liquids:
trucks
LCV
cars
special purpose vehicles
agricultural vehicles.
Stock numbers search is carried out using autonomous catalogues. Gathered stock numbers are used by OEM, global and local Internet-stores for spare parts prices monitoring.
The results are provided in Excel format according to following structure:
vehicle brand
vehicle model
vehicle modification
spare part name
genuine part stock number
non-genuine part stock number
spare part replacement standard in authorized dealership etc.
This data can be useful for:
OEM
dealers
leasing companies
insurance companies
autocomponents and spare parts manufacturers
wholesale companies selling spare parts.
Consultation by phone: +7 (831) 439-21-82 or napi@abiz.ru
Back