DV-GIS, V.2.1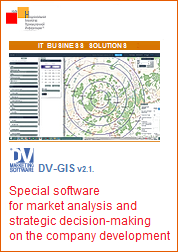 DV-GIS, v.2.1 is a special software for market analysis and strategic decision-making on the company development.
DV-GIS helps to actualize geoanalitic opportunities in marketing (geographical sales analysis).
Program opportunities:
Access to data from any point of the world at any time moment (24/7)
A broad tool range for spatial analysis
Complete surveys forms and special modules adapted for any customer
Program language: Russian
DV-GIS allows to:
analyze the spatial data and instantly observe the complete market situation using specified parameters that permits to make fast efficient decisions
estimate the automotive business activity and the development of its subsidiaries on any level of the country`s administrative division
find optimal locations for new business units and control existing units` activities
estimate the competitive environment and business units` overlapping inside the same network
forecast the market capacity and launch of new sales, service or other activity points
analyze the demand inside the country by customer type, vehicle import/export, period of vehicle ownership.
For leasing contracts and corporate fleet monitoring, we created a unique service allowing to analyze the territories by customer-adapted parameters.
Consultation by phone: +7 (831) 439-21-82 or napi@abiz.ru
Back