DV-ANALYSIS V.6.2.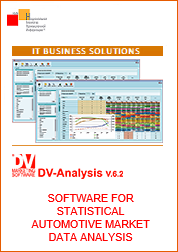 DV-ANALYSIS V.6.2. is a software for automotive market analysis.
DV-ANALYSIS V.6.2.is the first Russian program for statistical data analysis released by NAPI (National Industrial Information Agency).
Program opportunities:
Access to data from any point of the world at any time moment (24/7)
Adapted for any data provided by any customer
Possibility to save the results of analysis and to update them monthly in the same sames
Complete surveys forms and special modules adapted for any customer
Program languages: Russian, English
DV-ANALYSIS allows to:
monitor competitors by vehicle type
monitor the procurement activity of each company
monitor the market development on the given territory
monitor the vehicle prices on regional level
modify your own price policy
position your own product on the market
get a complete information base of customers in the given region
analyze the competitive environment
prepare analytic presentation materials for analytics and sales departments
to form standard surveys in Excel format
The example of DV-ANALYSIS is given in the attachment.
Consultation by phone: +7 (831) 439-21-82 or napi@abiz.ru